Sweet and Sharp, Rich and Mellow...
Welcome to Little Doone. We make sweet balsamic dressings.
If you find a normal balsamic a bit harsh and vinegary, and if you don't fancy paying silly money for an aged balsamic that sits in the cupboard for special occasions, then you really need to try our range of sweet balsamic dressings.


We source our balsamic vinegar from one of the oldest and longest established balsamic houses in the Modena region of Italy, and then we start to play. Were you told not to play with your food as a child? Well, forget that! Playing with food is great fun!
We have a range of delightful dressings, all based on the deep, full flavours of our Original. We simply take a small batch of Original, and blend in pure zests, or fresh fruit, or maybe a hint of chilli, but there are no flavourings! We learned a long time ago that if you want something to taste good, you put good things in. Simple!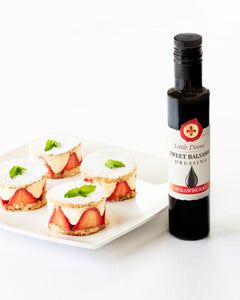 Summer Has Arrived!
What can be nicer than fresh local strawberries? Our Strawberry dressing is made with 25% pure, crushed Scottish strawberries for the taste of summer sunshine in a bottle.
For a special summer treat, try our recipe for beautiful individual strawberry gateaux.
Strawberry Gateaux Recipe
From small beginnings
We are a very small family run business based just outside the historic town of Stirling in central Scotland. We sit right at the bottom of some beautiful hills that greet us when we open our door in the morning, except for the very occasional day (ahem!) when it's raining or cloudy, and then you can see precisely...
Read About Us